---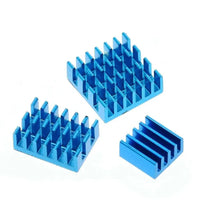 Introduction :
Raspberry pi 4 Heat Sink Blue color
Features :

1.The pure aluminum heat sinks include adhesive thermal tape for efficient thermal transfer to the heat sink providing additional cooling to the IC.

2.The heat sink have profiles which are short enough to fit within standard Raspberry Pi cases.

3.The heat sink can be applied in other devices such as the BeagleBone to cool processor, regulators, etc.

4.Used for Raspberry Pi 4 model B.

5.The surface is smooth and exquisite, and the buckled card slot is perfectly designed.