---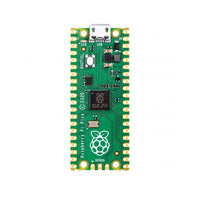 Introduction :
Raspberry Pi Pico is a tiny, fast, and versatile board built using RP2040, a brand new microcontroller chip designed by Raspberry Pi in the UK.
RP2040 Designed by Raspberry Pi, RP2040 features a dual-core Arm Cortex-M0+ processor with 264KB internal RAM and support for up to 16MB of off-chip Flash. A wide range of flexible I/O options includes I2C, SPI, and — uniquely — Programmable I/O (PIO). These support endless possible applications for this small and affordable package.
Features :
Raspberry Pi designed RP2040 chipset.
Dual core ARM Cortex M0+ processor at up to 133MHz with variable core frequency.
264kB SRAM & 2MB onboard flash memory.
26 Multifunction GPIO pins (23x digital only, 3x ADC capable).
2x SPI, 2x I2C, 2x UART, 3x 12-bit ADC and 16x controllable PWM channels.
The Pico can be surface mounted as a module.
Accurate clock and timer on chip.
Temperature sensor.
Accelerated floating point libraries.
Micro USB port for power & data.
3-pin ARM Serial Wire Debug (SWD) port.