---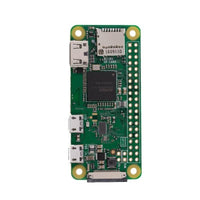 Introduction :
The Raspberry Pi Zero W extends the Pi Zero family and comes with added wireless LAN and Bluetooth connectivity.
This is the smallest Raspberry Pi available at the moment. The board is just half the size of a Raspberry Pi Model A+, but with more capabilities! The Raspberry Pi Zero W features wireless connectivity providing onboard Bluetooth 4.1, BLE and WiFi! The board itself is just 65mm x 30mm x 5mm in size, is has a mini camera connector, a microSD slot, mini HDMI, 2x microUSB (one for USB and one for Power).
Just like the A+ and the B+, the Pi Zero W features a single core CPU clocked at 1GHz and 512MB RAM. The GPIO header is unpopulated so you can choose wether you want to solder a header on or not. This gives you a lot of freedom how the Raspberry Pi Zero W can be used.
Features :
802.11 b/g/n wireless LAN
Bluetooth 4.1
Bluetooth Low Energy (BLE)
1GHz, single-core CPU
512MB RAM
Mini HDMI and USB On-The-Go ports
Micro USB power
HAT-compatible 40-pin header
Composite video and reset headers
CSI camera connector