---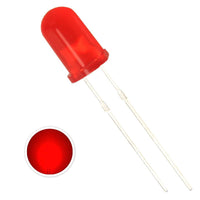 Introduction :
LEDs (Light Emitting Diodes).

These are the types of LEDs that are likely to be in your several types of electronics as an indicator light.
LED Diode 5 mm take much less current to run than high brightness LEDs,
Features :
5mm Round Standard Directivity.
Color : Red.
Forward Current):  20-30mA.
Forward Voltage (VF): 1.8V to 2.4V.
Wavelength :  460-465 (NM).

Reverse Voltage: 5V.
Operating Temperature: -30℃ to +85℃.
Luminous Intensity: 20mcd.