---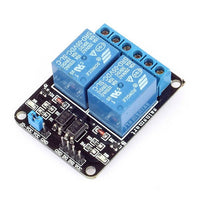 Introduction :
It is a 2-channel relay board, which can be controlled directly by a wide range of microcontrollers such as Arduino, AVR, PIC, ARM, PLC, etc.
It is also able to control various appliances and other equipments with large current.
used where it is necessary to control a circuit by a low-power signal (with complete electrical isolation between control and controlled circuits), or where several circuits must be controlled by one signal.
Features :
Input Voltage : 5V.

R

ated load

: (

10A 250VAC / 10A 30VDC)




No. Of Channels : 2Channels.