---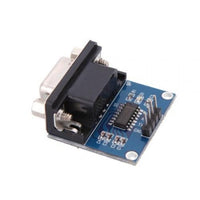 Introduction :
This is a MAX3232-based level shifter for converting TTL-level serial to standard RS-232 serial.
This will allow a microcontroller to communicate with a computer and widely used in radio modification, phone flash,XBOX360 flash, GPS ,vehicle detection, DVD flash, hard disk repair set-top box upgrade.
Features :

Operating voltage: 3.3V-5V DC.
Operating current: 6mA.
Power supply: external.
Interface: TXD, RXD, GND, VCC.