---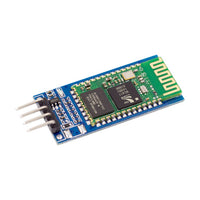 Introduction :
This is a bluetooth module for use with any microcontroller. 
It uses the UART protocol to make it easy to send and receive data wirelessly.  
The HC-06 module is a slave only device.
 This means that it can connect to most phones and computers with bluetooth but it cannot connect to other slave only devices such as keyboards and other HC-06 modules.
 To connect with other slave devices a master module would be necessary such as the HC-05 version which can do both master and slave.
Features :
A breakout board for easier connectivity
Designed for 3.3v level ttl but will accept 5v level as well
Built in antenna with a range of up to 30 feet (range is dependent on a lot of things such as any obstacles or walls in the way so it may vary)
Supports baud rates from 1200 to 1382400 bps (default is 9600 bps)
VCC input voltage 3.3v to 6v
Bluetooth Specification v2.0+EDR
simple to use AT command ie, to set the pairing passkey to 1234 just use

 

AT+PIN1234