---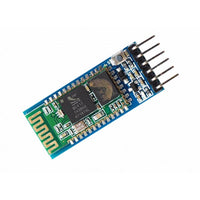 Introduction :
 Serial Bluetooth Module (Master/Slave) HC-05 can be used in a Master or Slave configuration.
The HC-05 Bluetooth module can connect to other modules in two ways as a master, or as a slave. For example, a robot can be designed to be a master connected to a slave Bluetooth module or as a slave board to make a wireless connection with a PC and smart phones

It can easily transfer data wirelessly, without complex PCB layout or deep knowledge in the Bluetooth software .

Compatible with Arduino,Raspberry Pi ,and any MCU board using the TTL UARTinterface.
Features :
Support Master & Slave Mode Serial communications.
UART interface and with baudrate setup function.
Frequency: 2.4~2.524 GHz.
Bluetooth core V2.0 compliant.
Built-in Chip antenna.
Power Supply: 3.7-5V.
Applications :
Computer and peripheral devices.
GPS receiver.
Industrial control.
MCU projects.