---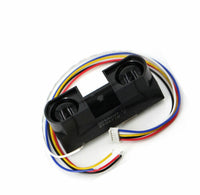 Introduction :
Sharp IR Proximity (GGP2Y0A710K0F) is an IR sensor useing infrared wave to measure distance.
The output of the sensor is analog voltage, which can be read easily by microcontroller's ADC converter.
This sensor can be used in industry and especially in robotics. The efficient range of this module is 100 to 550 cm.
Infrared is sent out by the sensor which bounces off objects.
The analog voltage that is returned determines how close the nearest object is. The closer it is, the higher voltage is returned.
Features :
Operating voltage: 4.5 V to 5.5 V
Average current consumption: 50-33 mA (typical)
Distance measuring range: 100 cm to 550 cm 
Output type: analog voltage
Response time: 38 ± 10 ms
Applications :

Obstacle detection.
Distance sensor for robots
Non-contact optical switch
Industrial automation and controls