---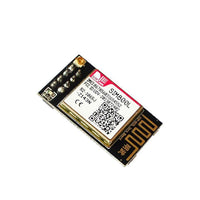 Introduction :
SIM800L-ESP800L GSM / GPRS module is based on SIM800L by SIMCOM.
It has the same dimensions and shape like ESP seriesboards.
Also it is powered by DC 5-6V supply.
The module is copact and rugged because it has built-in pcb antenna, making it suitable for applications where size matters.
SIM800L-ESP800L GSM / GPRS module supports quad-band GSM/GPRS network including SIM800L GPRS and SMS message data. The SIM800L GSM / GPRS board features compact size and low current consumption.
With power saving technique, the current consumption is as low as 1mA in sleep mode. It communicates with microcontroller via UART port, supports command. It's operating voltage is 5 ~ 6V.
Features :
ESP style and size board shape

.

Built-in pcb antenna.

Input Voltage:DC 5-6 V.

Quad-band 850/900/1800/1900MHz.

Make and receive voice calls using a headset or an external speaker .

Send and receive SMS messages.

Send and receive GPRS data (TCP/IP, HTTP, etc.).

Scan and receive FM radio broadcasts.

AT command interface with "auto baud" detection.

Lead out buzzer and vibrational motor control port.