---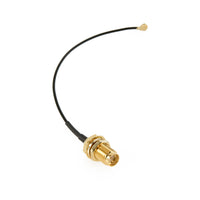 Introduction :
SMA to U.FL Cable flexible connector cable interfaces UFL to SMA antennas. The SMA connector has a center pin, and a backing nut for bulkhead installations.
 SMA to U.FL Cable has SMA connector on the end, often used for wifi routers and antennas, PS and cellular connections often use SMA.

Features :
Frequency : 6 Ghz.

Voltage : 60V AC.

Connector Type : rp-sma female to u.fl .

Temperature range : -40°C to +80°C.