---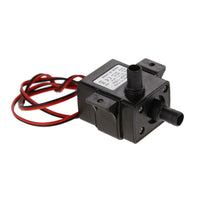 Introduction :

Small Liquid Pump (4 L/Min) is submersible water pump with a high-performance brushless DC pump with long-life, small size, high efficiency, low noise and low power consumption and uses a high-performance stainless steel shaft.
It is submersible and entirely waterproof (IP68) with flow rate of 4L/MIN.
The axis is enclosed with static sealing, not dynamic, which can avoid leaking problems.
Can be used in many fields, such as cooling system, Garden fountain, Aquarium, car cooling system, humidifier, air conditioner, and many other cooling and circulation systems.
Very easy to use, just connect the red wire to 12V and black wire to ground .
Features :
Water pump housing material: PA66 +30% GF
Pump material : Plastic.
Condition of use: Continuously,submersible or land use.
Pump outlet diameter: 8mm
Power consumption: 4.2W
Rated voltage: 12V DC
Maximum load current: 350mA
Max flow rate: 4L/MIN(1.06G/MIN)
Max Static Head: 3m(9.7ft)
Water proof class: IP68(can be submersible installed)
Life span: More than 30000hrs
Power supply: DC power modules, solar panels battery
Sizes: 51x34x42.7
Weight: 50g
Fluids: Water, acid and alkali solution.
NB :
pump cannot work with high temperature or corrosive fluids.
 Do not use this pump to pump oil.