---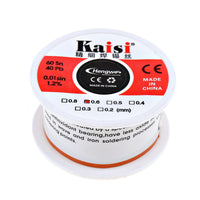 Introduction :
Solder Wire have been treated by a special technology with oxide removal and antioxidant bearing.
Have less oxide solderability, satisfyingly used in wave and iron soldering process with bright and full sodering points.
Abrasion resistant.

Duable and Environmental.
Features :
Weight : 50 gm.

Diameter :  0.5 mm
Flux: 1.2%.
Alloy : Sn60 / Pb40.
Material : Tin lead.
Main Color : Silver.