---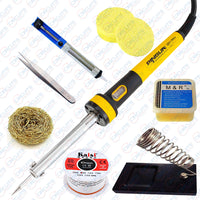 Introduction : 
Soldering Iron Starter Kit is a complete function kit
This is  kit for beginners and hobbyists.
It contains all necessary things to start soldering including a soldering iron, a mini iron stand, solder wire, a desoldering pump..etc
Features :
Soldering Iron 60W.
Solder Wire With Flux ( High Quality ).
Metal Soldering Stand.
Solder Brass Sponge.
Flux Solder Paste.
Desoldering Pump.
Sponge for Soldering Iron Stand.
Point-Tip Tweezer.