---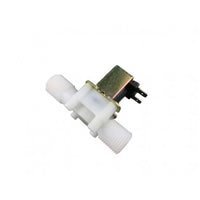 Introduction :
Solenoid Valve - Fluid Control is normally closed water/air solenoid valves (Opens when energized).
This type of water/air solenoid valves are used as inlet (feed) valves in washing machines, water purifiers, dish washers, Ice makers, vending machines, Coffee makers and as control valve in Automatic Water Faucets (Automatic sensor Taps).And any where where water/air is need to be controlled by solenoid valve.
Features :
Material: Plastic + Metal

Color: White


Outer size: 84 x 55 mm

Position : Normally Closed

Pipe Size: 1/2 inch Male (outer size)


Width of the top white plastic part: 41 mm

Working Voltage: DC 12V 

Protection Grade: Ip65

Response Time: ON≤0.15sOFF≤0.3s

Pressure: 0-8 Bar (0.02-0.8Mpa)

Temperature: 1-75°C

Operate Life: >100000 OPS

Flow characteristic: 0.02Mpa≥3 L/min;0.1Mpa≥12 L/min;0.8Mpa≥35 L/min

Weight(packaging weight excluded): 300 g
Applications :
Washing machines.
Water purifiers.
Dish washers.
Automatic Water Faucets.