---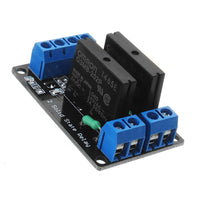 Introduction :
This module is capable of switching AC voltages between 100 and 240V at up to a 2A current.
The module can be controlled from a 5V
Solid state relays, have several advantages over mechanical relays such as It has a longer life, with a much higher turn on/off speed and no noise.
It also has better resistance to vibration and mechanical shock and better moisture-proof performance.  

It can be switched by a much lower voltage and at a much lower current than most mechanical relays.
Connections :
Features :
Channel: 2 channel
Current Load : 2A.
Control Voltage: 5V.
Working Current: 13.8mA (Max)
Trigger Voltage: 0 ~ 2.5V (Low level)  .          
Trigger Current: 2mA.