---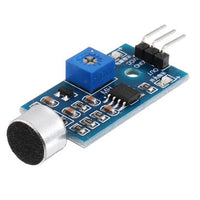 Sound sensor module with analog and digital output. It works with supply voltage from 3.3 V to 5.3V.
It allows you to detect not only the volume of the sound but also the identification of characteristic sound source, therefore you can distinguish the source of the sound.
Adjust the on-board potentiometer to adjust the sensitivity. The module output HIHG/LOW when the voice is Lower/higher than the threshold set by the potentiometer.

Features:
 voltage: 3.3V ~ 5.3V

Adjustable analog output

Adjustable digital output

Adjustable sensitivity
Applications:

Sound controlled Lamp;
Sound monitoring