---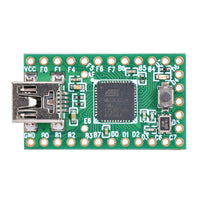 Introduction :
The Teensy 2.0 is a fully USB-based microcontroller development system with very small dimensions.
It is based around ATmega32u4 (AVR) microcontroller running at 16 MHz.

It has 25 I/O lines in total. 12 could work as analog inputs, and 7 works as outputs with PWM (some I/O lines can work in many modes).
All the programming takes place via the USB interface.

No special programming device is required — just a standard mini-B USB cable and a PC or a Macintosh computer with a USB interface.
Features :
USB can be any type of device
AVR processor, 16 MHz
Single pushbutton programming
Easy to use Teensy Loader application
Free software development tools
Works with Mac OS X, Linux & Windows
Tiny size, perfect for many projects