---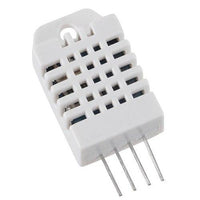 Introduction :
Temperature & Humidity Sensor Module (DHT22) is low-cost digital temperature and humidity sensor.
It uses a capacitive humidity sensor and a thermistor to measure thsurrounding air.
Features :
Operating Voltage: 3.5V to 5.5V
Operating current: 0.3mA (measuring) 60uA (standby)
Output: Serial data
Temperature Range: -40°C to 80°C
Humidity Range: 0% to 100%
Resolution: Temperature and Humidity both are 16-bit
Accuracy: ±0.5°C and ±1%
Applications:
Weather forcasting.
 Home Automation.
Weather control applications.