---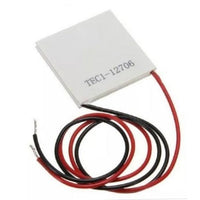 Introduction :
Thermoelectric Cooler (Peltier 12706)  is a semiconductor-based electronic component that functions as a small heat pump.
By applying DC power source to a TEC, heat will be transferred from one side of the module to the other.
It creates a cold and hot side. They are widely used in industrial areas, for example, computer CPU, CCDs, portable refrigerators, medical instruments, and so on.
Features :
Voltage rating: 12 V
Current rating: 4.5 A
Power rating: 50 W
Maximum operating temperature: 68 °C
Maximum temperature difference: 67 °C
Size: 40 x 40 x 3.8 mm