---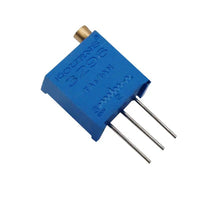 Introduction :
Trimpots, also known as potentiometers, are multi-turn adjustable resistors used for adjustment, calibration, and tuning purposes in circuits.
They are easily mountable on PCB boards with a pin spacing of 0.1-inches and adjusted by a screwdriver.
The internal resistive track is a carbon composition or cermet.
Features :
Resistance : 10 Kohm.

Mounting Type : Through Hole .
Temperature Range : -55 to +125 Degree C .

 Rotational Life : 200 cycles.