---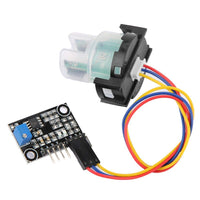 Introduction:
Turbidity is defined as the reduction of transparency of a liquid caused by the presence of undissolved suspended matter.
The origin of the particles found in water can be mineral (such as clay ) or organic (such as organic matter or living organisms ). Turbidity is not, however, a direct measure of suspended particles in water, but a measure of the scattering effect such particles have on light.



Turbidity sensor uses optics principles to synthetically estimate turbidity through the liquid light transmittance rate and scattering rate.

Since the amount of haze value is gradual, it is usually detected in a dynamic environment.

.

The turbidity value that turbidity sensor collects need connecting external control for AD conversion to get a corresponding environment turbidity situation, so that the sensor need a peripheral circuit to detect in a system.

With waterproof probe, mainly used in washing machines, dishwashers and other equipment for turbidity testing.
  Featrures
Operating Voltage: DC 5V

Operating Current: 30mA (MAX)

Detection Range: 0%--3.5%(0-4550NTU)

Operating Temperature: -30℃~80℃

Error Range: ±0.5%

 

Output mode 1: Analog output 0-4.5V

 

Output mode 2: high / low level signal

 
Application:
Measure water quality.

Transport research and laboratory measurements

Pharmaceutical industry and measurements

Measure

pipe transition

.