---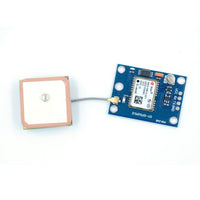 Introduction :
The Ublox NEO-6M gps engine on this board is a quite good one, with high precision binary output.
It has also high sensitivity for indoor applications.
The gps module have a battery for power backup and EEprom for storing configuration settings.
The antenna is connected to module through ufl cable which allow for flexibility in mounting the gps such that the antenna will always see the sky for best performance.
This make it powerful to use with cars and other mobile applications.
The Ublox gps module has serial TTL output, it has four pins:TX, RX, VCC and GND.
You can download the u-center software for configuring the gps and changing the settings and much more. It is really good software
Features :
Standalone GPS receiver
9600 baud (default setting; can be changed)
3.3V Device
3.3V TTL IOs; (FYI, the TX 3.3V 'high' state will be sufficient to drive normal 5V microcontroller TTL inputs without additional hardware)
Onboard LED which flashes to indicate lock
Under 1 second time-to-first-fix for hot and aided starts
Indoor GPS: -162 dBm tracking sensitivity
Anti-jamming technology
Support SBAS (WAAS, EGNOS, MSAS, GAGAN)
U-blox 6 50 channel positioning engine with over 2 million effective correlators
Timepulse
5Hz position update rate
Operating temperature range: -40 TO 85°C
UART TTL socket
EEprom to store settings
Dimensions: 35mm L x 26mm W x 12mm D (antenna dimensions of 25mm x 25mm x 10mm) 
Uses a XC6204B2K voltage regulator, so it can take 3.3V and 5V operating voltages