---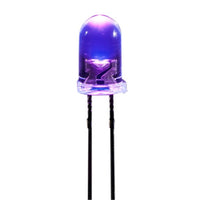 Introduction :
Ultraviolet LED (5mm) is a simple 5mm LED with an interesting array of applications.
Ultraviolet LED (5mm) can be used for counterfeit detection (bills, credit cards, documents, etc), sterilization, pesticide, black lights, sun burns, the list goes on. Please wear eye protection when using these LEDs.
It is 395nm Ultra-Violet 5mm LED (T-1 ¾ through-hole) is extremely bright at 6800µW.
Its typical forward voltage is 3.6Vdc and drive current is 20mA, with a maximum forward current of 30mA.
Features :
Voltage : 3V - 5V.

Light Color : Violet.

Size : 5mm.

Forward Current : 20mA.
Peak Forward Current : 50mA.
Wavelength : 395nm.