---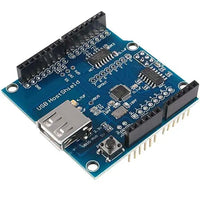 Introduction :
USB Host Shield is an add-on board for Arduino development platform.
The shield provides USB Host interface, allowing full and low-speed communication with USB devices – keyboards, mice, joysticks, MIDI, digital cameras, Bluetooth, and many others.
Thanks to new interface layout it is now compatible with more Arduinos – not only UNO and Duemilanove, but also big Mega and Mega 2560 work with Standard variant of this shield out of the box. No more SPI re-wiring and code modifications – just solder included stackable connectors (2×3 ICSP connector's female side should be facing down), plug and play! Supports Google ADK.


The following device classes are supported by the shield:

HID devices: keyboards, mice, joysticks, etc.
Game controllers: Sony

 

PS3

, Nintendo Wii, Xbox360.
USB to serial converters: FTDI, PL-2303, ACM, as well as certain cell phones and GPS receivers.
ADK-capable Android phones and tables.
Digital cameras: Canon EOS, Powershot, Nikon

 

DSLRs

 

and P&S, as well as generic PTP.
Mass storage devices: USB sticks, memory card readers, external hard drives, etc.
Bluetooth dongles.