---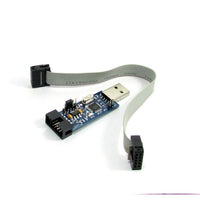 Introduction :
USBASP AVR Programmer is a USB in-circuit programmer for Atmel AVR controllers.
It simply consists of an ATMega8 and a few passive components. The programmer uses a firmware-only USB driver, no special USB controller is needed.
Features :
1. The onboard ATMega8 chip (L)

2. With power &'m two indicator towns

3. The onboard overcurrent protection

4. The target board support 5 V and 3.3 V power supply
Supported Micrcontrollers :
Mega Series ATmega8 ATmega48 ATmega88 ATmega168 ATmega328 ATmega103 ATmega128 ATmega1280 ATmega1281 ATmega16 ATmega161 ATmega162 ATmega163 ATmega164 ATmega169 ATmega2560 ATmega2561 ATmega32 ATmega324 ATmega329 ATmega3290 ATmega64 ATmega640 ATmega644 ATmega649 ATmega6490 ATmega8515 ATmega8535 Tiny Series ATtiny12 ATtiny13 ATtiny15 ATtiny25 ATtiny26 ATtiny45 ATtiny85 ATtiny2313 Classic Series AT90S1200 AT90S2313 AT90S2333 AT90S2343 AT90S4414 AT90S4433 AT90S4434 AT90S8515 AT90S8535 CAN Series AT90CAN128 PWM Series AT90PWM2 AT90PWM
Supportinf Software :
AVRdude : Version 5.2 or later. AVRdude is available for many platforms.

Khazama AVR Programmar : An AVRdude GUI for MS Windows

BASCOM AVR :

Version 1.11.9.6 or later

Extreme Burner : An easy to use GUI application for MS Windows.