---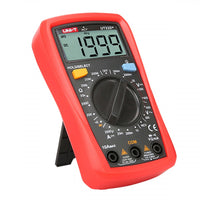 Introduction :
 The new generation UT33+ series redefines the performance standards for entry-level digital multimeters.
 Innovative industrial design ensures that these products can withstand 2 meters drop.
The new LCD display layout provides a better user experience.
This series ensures that users can work safely in CAT II 600V environment. Special features are, 2mF capacitance test (UT33A+); battery test (UT33B+); temperature measurement function (UT33C+); non-contact voltage (NCV) test (UT33D+). 
Features :
DC voltage (V) : 200mV/2V/20V/200V/600V.

AC voltage (V) : 200V/600V.

DC current (A) : 2000μA/20mA/200mA/10A.

Resistance (Ω) : 200Ω/2kΩ/20kΩ/200kΩ/20MΩ/200MΩ.

Auto power off/Auto backlight off.
Diode test/Continuity buzzer.
Product net weight : 206g (batteries included).

Product size : 134mm x 77mm x 47mm.

Product color : Red and grey.