---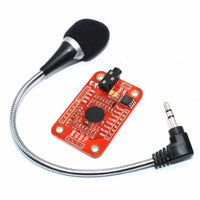 Introduction :
Voice Recognition Module is a compact easy-control speaking recognition board. It is a speaker-dependent module and supports up to 80 voice commands.
Any sound could be trained as command.
You need to train the module first before recognizing any voice command.
Voice commands are stored in one large group like a library.
 Any 7 voice commands in the library could be imported into recognizer. It means 7 commands are effective at the same time.
Features :

Voltage : 4.5-5.5 V.
current :<40 mA.
Digital interface : 5V TTL level UART interface.
Analog Interface: 3.5mm mono-channel microphone connector + microphone pin interface
Recognition accuracy: 99% (under ideal environment)
Support maximum 80 voice commands, with each voice 1500ms
Maximum 7 voice commands effective at same time
Easy Control: UART/GPIO
Applications:
Smart Home.

Voice controlled robots.
Voice Recording and Playback Circuits.