---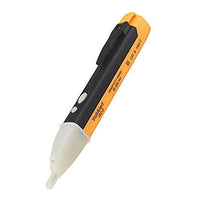 Introduction :
Voltage Alert Detector Tester 90-1000V is only used to judge whether the conductor is live or not.
Ideal for testing AC cables, circuit breakers, wall sockets, junction boxes, fuses, etc.
All outer surfaces are non-conductive for safety, touch the wire with the pen tip.
If the red indicator lights up, it means voltage exist.
Detects voltage without metallic contact.
This voltage detector is designed for electrical testing.
Compact, safety, & easy to carry, a necessary tool for everyone who works with electricity.
Long life and low power consumption
Features :
Color : Black & Orange.
Voltage : 90-1000VAC.
Lighting Type ; LED.