---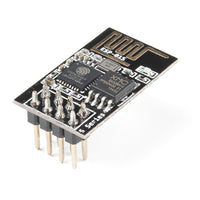 Introduction :
This ESP8266 Serial Port To Wi-Fi Module, FL-M1S  serial transceiver module, based on (ESP8266 ESP 01 )with an integrated TCP/IP protocol stack It can either host the application or offload all Wi-Fi networking functions from another application processor.
ESP8266 has powerful onboard processing and storage capabilities allowing it to integrate with sensors and other devices through GPIOs with minimal development up-front and minimal loading during runtime.
Its high degree of on-chip integration allows for minimal external circuitry, and the entire solution, including the front-end module, is designed to occupy minimal Pcb area.
Features :
Flash Memory : 1MB.

Working Voltage : 3.3 - 3.6V
Power down leakage current of <10uA.
Integrated temperature sensor
Support three modes: AP, STA and AP+STA coexistence mode
Onboard PCB Antenna
Integrated low power 32-bit.

 

2 microcontroller pins needed for communication (RXD/TXD).