---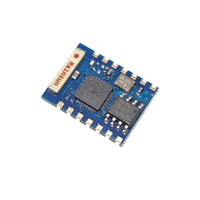 Introduction :

WiFi module based on ESP8266 chip. It operates in 802.11 b/g/n WiFi standard at 2.4 GHz.
It is equipped with 14 outputs - 2 mm raster, 7 of which are GPIO and 1 ADC. It has a built-in ceramic antenna. Tile dimensions are 17,4 x 12,2 mm.
Its high degree of on-chip integration allows for minimal external circuitry, and the entire solution, including the front-end module, is designed to occupy minimal Pcb area.
Features :
802.11 b/g/n
Ceramic Antenna
Wi-Fi Direct (P2P), soft-AP
Stack TCP/IP integrated
+ 19.5dBm output power in 802.11b
SDIO 1.1/2.0, SPI, UART
STBC, 1 x 1 MIMO, 2 x 1 MIMO
A-MPDU & A-MSDU aggregation & 0,4 ms guard interval
Wake up and packets trasmission: < 2ms
Integrates WEP, TKIP, AES e WAPI
Communication interface voltage: 3,3 Vdc
Standby consumption: < 1 mW (DTIM3)
Dimensions (mm): 17,4 x 12,2
Weight: 3 grams